Valentine's Day with Adore Me
Valentine's Day – the one day in the year where romance rings through the air a little louder and candy hearts take the spot light. It is a day tailor made for the baes and boos of the world, setting the candle lit back drop of what is arguably the most romantic day of the year.
This year, however, I'm going to bend the rules of Valentine's Day just a little. I still plan on celebrating it with that special someone in my life, but hubby can take a break for the day. This year, I'm dedicating Valentines day to the people in my life who shower me with love on the other 364 days of the year – my girls. The bond I share with my best friends is a strong one and one I cherish with all my heart. It transcends provinces and keeps us connected no matter how far we stray from each other. These ladies love me unconditionally, even when I am at my worse, so the least I can do is shower them in some of that good loving this Valentine's Day.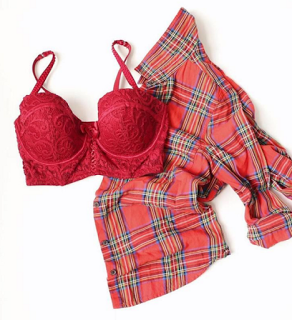 You might be thinking that I am missing out on all the bells and whistles that come with Valentine's Day, like the flowers, chocolates and lacy gifts, but you couldn't be more wrong! Connecting with your best girl friends instead of a night out with bae doesn't mean sacrificing the true essence of Valentine's Day. I plan on showering my ladies with flowers and gifts because, simply put, they deserve it. We live on separate parts of the country (my heart breaks every time I think about it) so a night out would involve some serious magic and time off work for all involved - so, instead, a romantic Skype date is just the solution.
Self love and self care is so important during this time of year, and blessing your body and temple with some lacy attire can only help to boost your confidence. Shared with your girls, its even better. Wrapped from head to toe in pretty satin and suggestive lace, armed with a bottle of wine and a box of Ferrero Rocher (because, let's be real, nothing else compares), my girls and I will hang out over Skype enjoying each others company.

Here are my Adore Me Valentine's Day picks for staying in and enjoying the company of your girls. Adore Me believes that lingerie is the most intimate form of style and shouldn't only be for special occasions. With a wide variety of lingerie to choose from, including PJs and plus sizing from 30D-44G, Adore Me is the perfect place to pick out that gorgeous and perfectly fitting intimate gift. Treat yourself and the wonderful ladies in your life with something special and embrace those curves together!
This is a sponsor post; however, all thoughts and opinions are my own