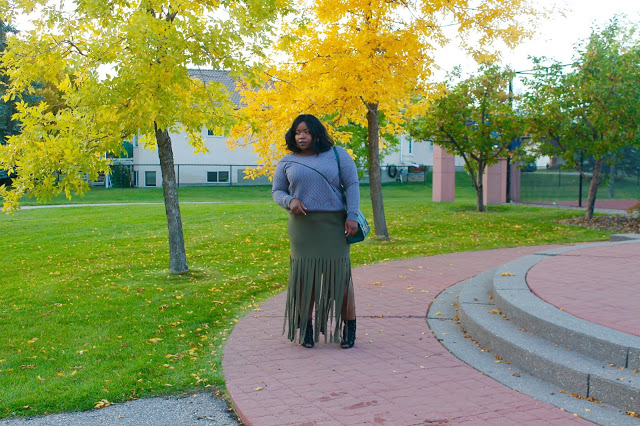 Nadia Aboulhosn Cable Knit Sweat Shirt - Addition Elle | Slasher Maxi Skirt- Rebdolls | Smart Satchel Bag - Asos
Fall is one of my favourite seasons of the year, with the rich autumn colours and cool evenings perfect for solo Netflix sessions. Fall used to signify the beginning of a new school year for me, a time when I headed back to campus, participated in Welcome Week and watched McMaster football every weekend. Now that I have transitioned out of that phase of my life, I have been faced with the task of redefining what fall means to me.
Right now, all I have come up with is that fall means comfy sweaters and olive green. Sweaters are a saviour when it comes to fall. They are the perfect weight for a brisk fall day and are the perfect transitional piece into the harsher winter months. I fell in love with this #NadiaxAdditionElle cable knit sweater the moment I tried it on. It is both comfortable and stylish, with black cable detailing and off the shoulder accents.
I decided to pair this comfy sweater with a maxi skirt with a fringe-y twist. This Rebdoll skirt is not only fabulous, it satisfies my insane need to wear an uncomfortable amount of olive green this season. The fringe accent is taken right out of the fall 2015 play book and is a trend that you will be sure to see a lot of. With a pair of peak-a-boo booties (which I purchased a while ago and is still one of my favourite pairs) and structured satchel, this look is the perfect mash up of comfy and chic, and is perfect for a fall brunch.