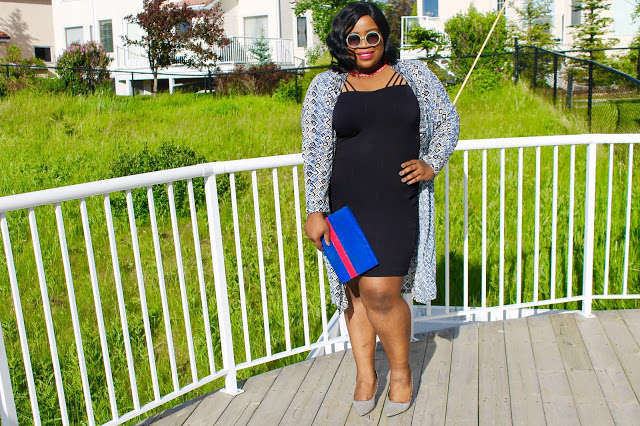 L&L Printed Duster Kimono - Addition Elle | Cactus Multi Strap Bodycon Dress - Addition Elle | Lovilla Statement Necklace - Aldo Accessories | Lip Pencil in Talking Points - Mac Cosmetics
I have a serious love hate relationship when it comes to my legs. I love the fact that they seem to not get hairy (thanks for the solid genes mom) and that they have little scars everywhere that each tell a wonderful story (such as flying off my scooter when I was 9 and grazing my entire knee); however, the size of my legs are a touchy subject. I shy away from shorts and short dresses simply because I am not their biggest fan. This summer, I have decided to begin embracing them, and falling back in love with by thick, beautiful legs. No more shying away from short dresses, skirts and shorts. No more stockings to try to help hide them. I am going to strut around with my chin to the sky and show off these bad boys.
What better way to begin my journey than to dawn a short, body con dress?! This multistrap bodycon is the perfect fit, hugging my body like a glove. I sized down because I was looking for a trully body-con feel, but I'd recomment trying both your size, and a size smaller to see which one works best for you. I paired it with a Love & Legend festival print duster kimono and simple pointy heels. To finish it all up, I threw on a fierce pink lip pencil from Mac Cosmetics, matching pink stetment choker and seafoad sunnies. I found this clutch at the back of my closet, and it was the perfect accessory to tie together all the colours in the outfit! Cheers to a season filled with nothing but these gorgeous legs!!