For the Love of Layers | Part 2 - Casual Layers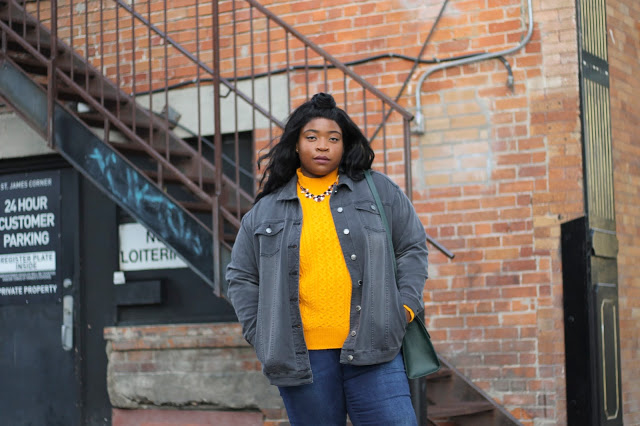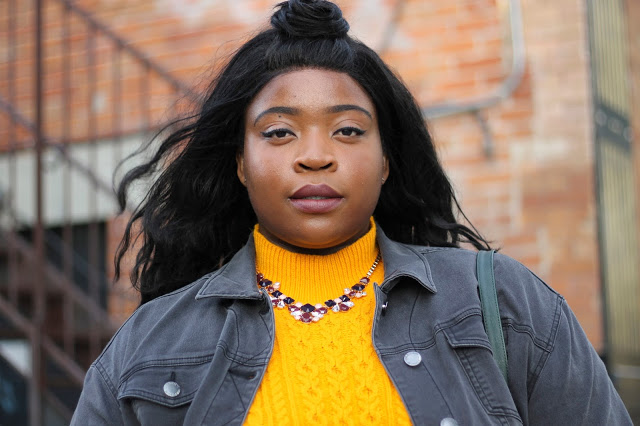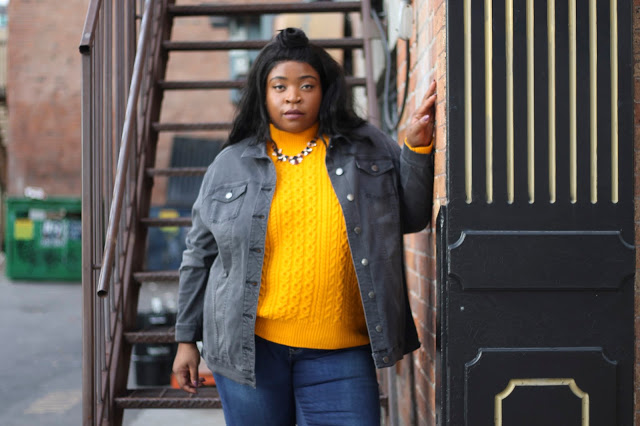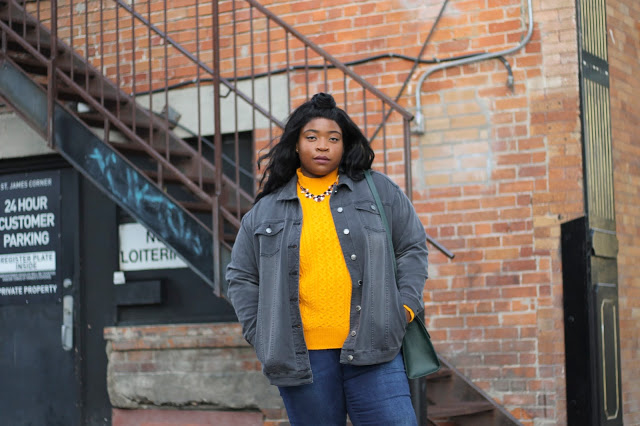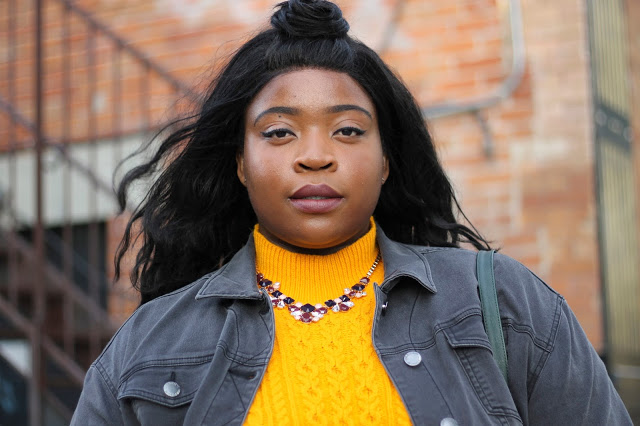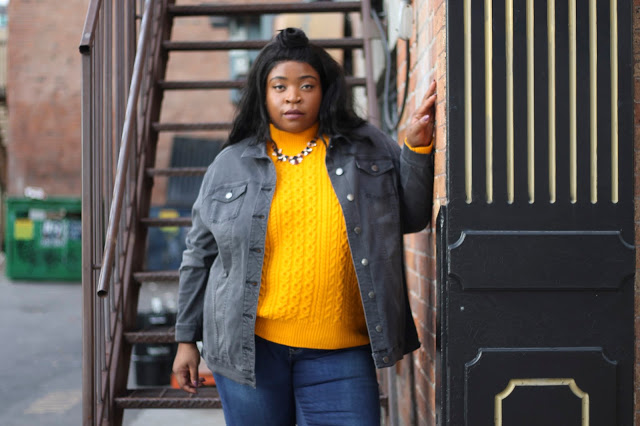 Nadia Aboulhosn Oversized Denim Jacket - Addition Elle | Sweater with Cable Stitch & High Neck - Asos Curve | L&L Dark Ex-Boyfriend Jean - Addition Elle | Floral Statement Necklace with Stones - Addition Elle
Thank you all so much for the positive feedback I received on For the Love of Layers Part 1! I enjoyed being able to play with a colour scheme that was very monochromatic, adding interest through different textures as opposed to colours. Here in Part 2, however, I decided to bring some of the rich tones to this fall-inspired laidback look. When I first saw this sweater on Asos Curve, I knew I had to have it. First and foremost, it looked comfortable AF and it did not fail to disappoint in real life. Seriously… it is like wearing a piece of a cloud and I have no doubt that it will quickly become a staple in my closet as the weather gets colder! Aside from the fact that this sweater is pretty much a hug in clothing form, the colour was one of the leading reasons why I had to have it! The sunflower yellow meets mustard yellow hybrid colour is pretty much everything and does the most to compliment the warmer tones that my melanin blessed me with. The cable knit gives it some serious 90s throwback feels and it is this general style theme that I had in mind while putting this look together.
This season, retro 90s style is on repeat and I am here for it. I'm talking mom jeans, crop tops and chunky sweaters, which basically translates to "I get to be hella comfortable for 4 months". Oversized sweaters and coats are an essential and I highly suggest you start stocking up. I've added some shopping options from Asos Curve that are similar to this cable knit one I landed on. I find that Asos usually has the best plus size variety, providing on trend pieces in sizes up to a US26! Having these pieces in your closet will allow you to layer with ease and create retro-comfy (I should trademark that) looks.
Another trend that stems from the retro 90s style is the denim on denim on denim. All the denim. All the time. It's time to dust off those Canadian tuxedos and distressed denim because it is their time to shine. It is really exciting that there are so many options for plus size denim in today's market. I remember not being able to find any trendy denim when I was in middle school. I hated the fact that there were so many straight size options (throwing it all the way back to Baby Phat), yet, I was stuck wearing track suit pants and shapeless corduroy. But things got better! Now there is almost an over abundance of jean options out there and its time for you to take advantage of that! My person choice had to be these ex-boyfriend jeans from Addition Elle. Looking past the amazingly savage name, these ex-boyfriend jeans are so flattering! They have a slightly relaxed fit in the perfect royal blue wash. Paired with King Nadia's oversized denim jacket (bless her), this semi Canadian tuxedo look proves that layering is key!
When I originally planned this look, I had wanted to wear some chunky black platform sandals. I was legitimately at my door, running out to shoot this, when I decided to do my trust kicks instead. I am really taking full advantage of the "comfy" part of retro-comfy but that is what the trend calls for (giggles internally)! But of course, I did need to add some glam so I decided to do so in the form of a stunning stone statement necklace I picked up at Addition Elle. I love how the gold and maroon add to the fall feels and perfectly accents the cable knit sweater. Paired with my trusty satchel, this look is super easy and the perfect way to do casual Friday!