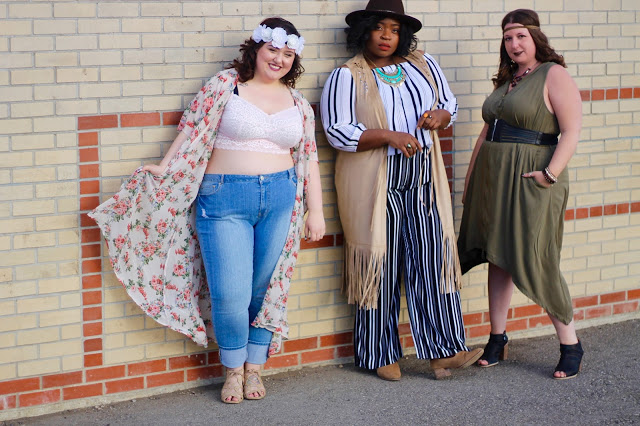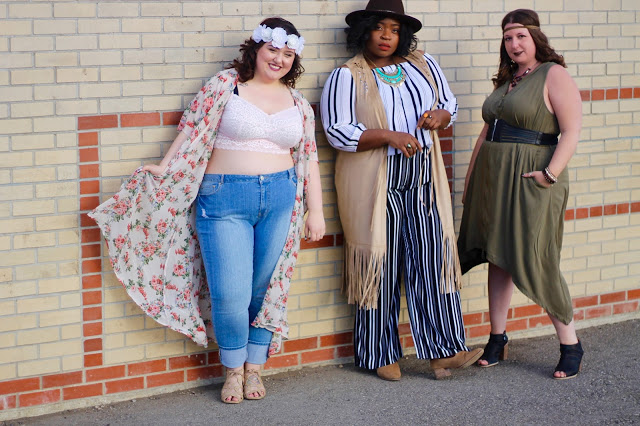 Festival season is finally here again and with it comes an array of my favourite fashion trends. Second only to fall inspired looks (because who doesn't look great in trench coats and thigh highs), festival style excites me to no end. I think my love of festival fashion stems from the fact that the high energy environment captured during a festival allows us to dress however we want. It magnifies our personal sense of style, allowing it to take centre stage. There are few rules to govern what you can and can not wear which, to a plus size woman, is something completely liberating.
Aside from major faux pas that encroach on culturally insensitive, festival fashion is what brings the real colour to a festival. This is one of the few arenas in which pattern mixing becomes a main goal. The crowds are a sea of florals, paisleys and stripes, a sight that makes my print-loving heart grow a few sizes. The self expression that comes out in festival looks is amazing and it always so fun to see how different people style similar pieces. The diverse variety and overall "so what?" sense of style is what really draws me to this genre of fashion.
My curvy Calgary fashionistas Mersadi (@stylebysadi) and Kimberly (@kimberlydawn2186) have teamed up with me again to put together another plus size lookbook. These fierce ladies, who have been featured on the blog before in our plus size Holliday lookbook, have glorious style. With our three different body types, we each created a look that we'd wear at a festival this summer to share with you all! I hope that the looks we put together showcases how much of a range festival style has, but also how much the term plus size can vary.
Look No. 1: Flower Power by Mersadi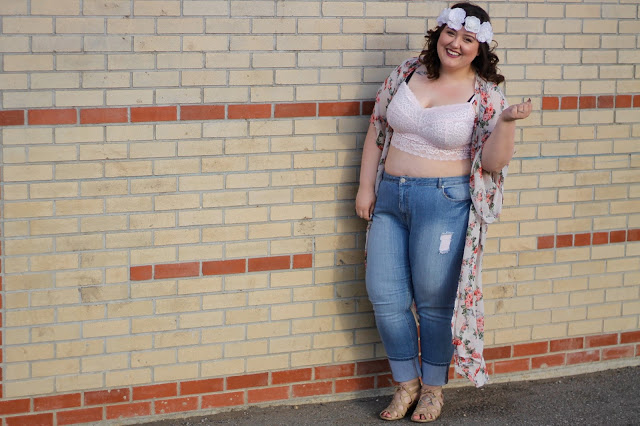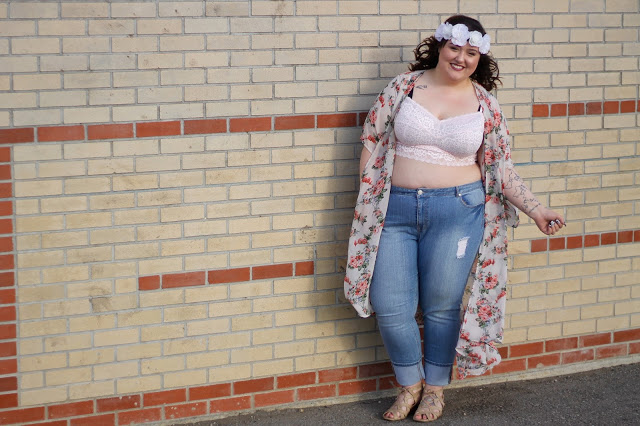 Crochet Back Kimono Cardigan - Avenue | L&L Slim Girlfriend Cuff Jean - Addition Elle | Lace Bralette - Déesse Collection - Addition Elle | Rivarotta Sandal - Call it Spring | DIY Flower Crown - & Pretty Things
"When I think of festival style I think "floral" and neutrals. Be it flower crowns, floral dresses, or an awesome kimono. Let's be real a neutral in my closet is any shade of pink! The nice thing about festival style is being able to dress your body without a care, mixing whatever patterns or textures you want. Rock a crop top, and a midi length kimono and rock it well hunny." @stylebysadi
Mersadi was kind enough to provide stoppable links to her look in straight sizes as well!
Tasseled Floral Longline Kimono - Forever21 | Distressed Boyfriend Jeans - Forever21 Embroidered mesh Crop Top - Forever21
Whether it's rocking a crop top or adding some serious DIY flower power, Mersadi's look brings out the flower child in all of us. She proves that curvy women can slay in crop tops and makes blush neutrals look oh so good. The next look uses different neutral shades to create a stylistically different boho loving ensemble!
Look No. 2: Neutral Boho Chic by Kimberly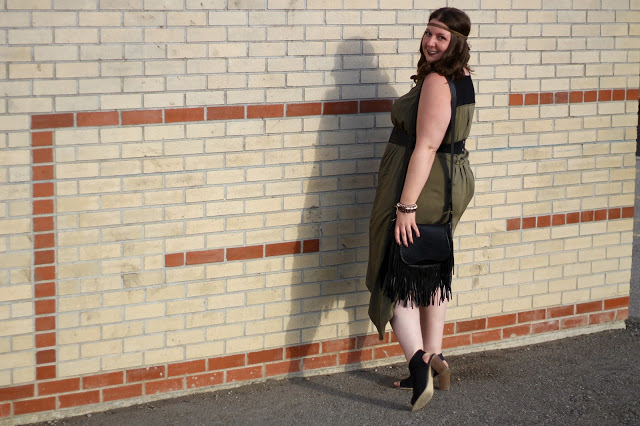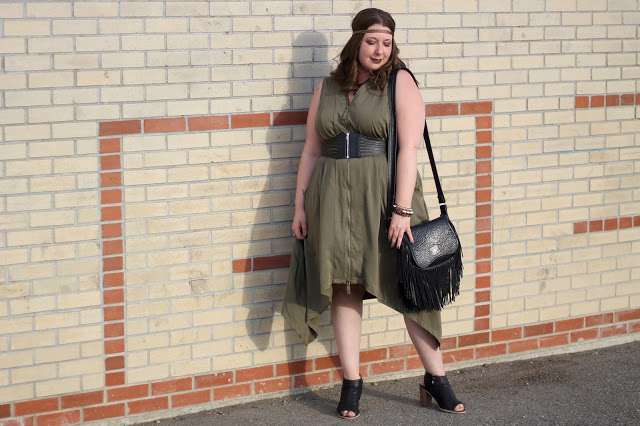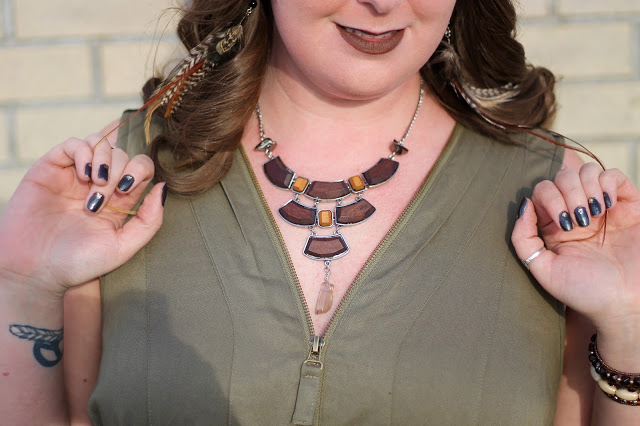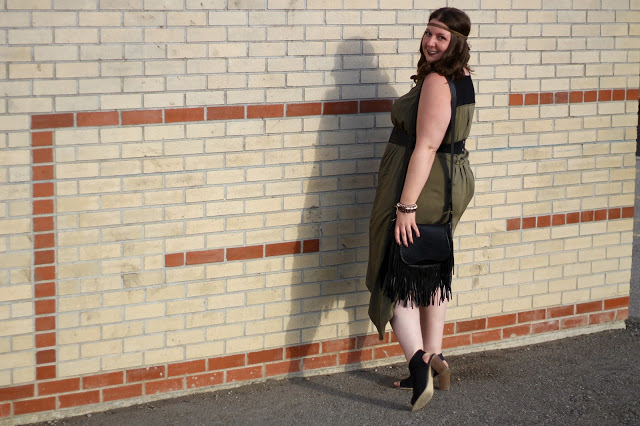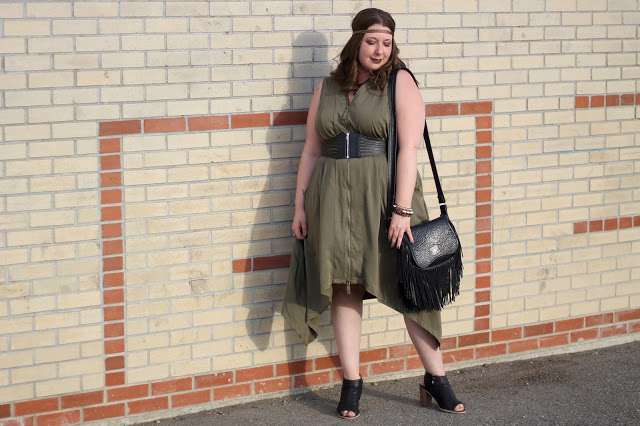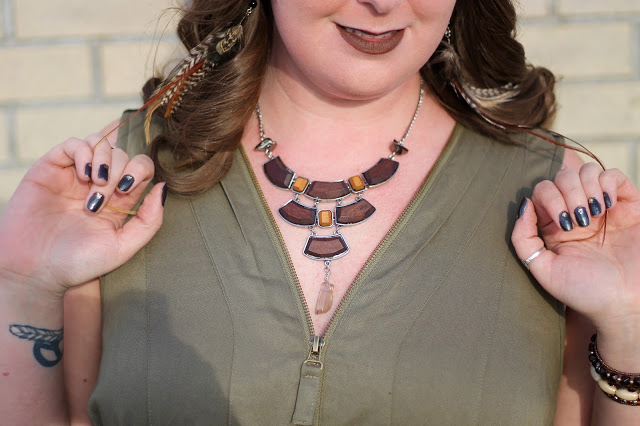 Tess Holliday Sleeveless Sharkbite Dress - Penningtons | Statement Necklace (Penningtons) - Similare Here & Here | Open Corset Stretch Belt - Addition Elle | Steve Maddes Nobell Sandal - Designer Shoe Warehouse | Fringed Faux Leather Bag - Similar Here
"When I was thinking about putting this look together, I wanted an earthy BoHo chic theme with a twist. I aimed for a "Kylie Jenner goes to Coachella" vibe, if that makes sense! The headband screams festival to me and I love earthy colours so I played off the olive green of this mblmxTess dress by adding neutral accessories. The final look feels hippie chic to me, the perfect festival vibe." @kimberlydawn2186
Kimberly shows us how her personal sense of style comes out in a festival inspired look. She played with her love of earth tones and added boho flares in her accessories. This neutral earth toned play on a classic festival theme shows us how to make festival style our own! The final look shows how the festival environment can help push one to dress outside of their comfort zone!
Look No. 3: That 70s Show by Me!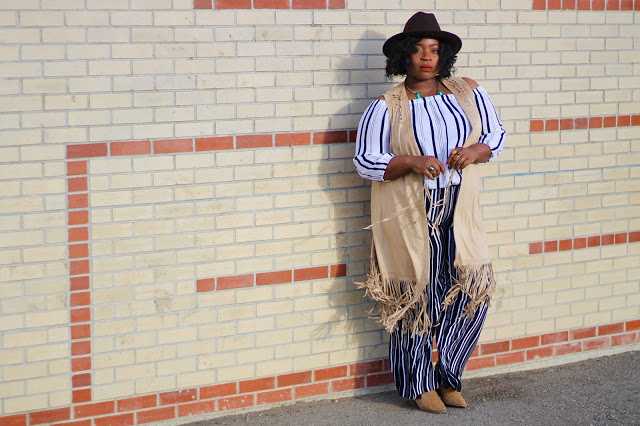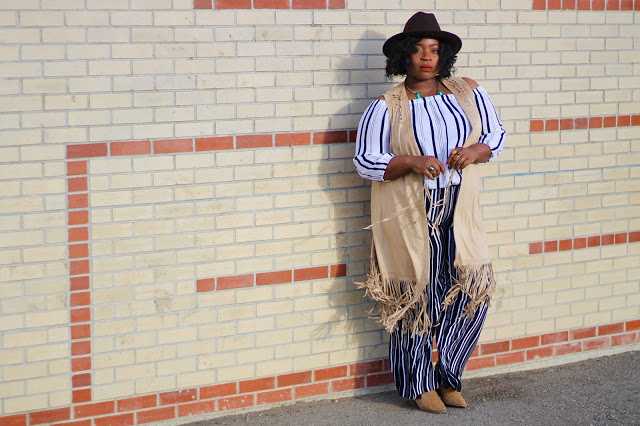 Michel Studio Off Shoulder Printed Blouse - Addition Elle | Michel Studio Striped Wide Leg Pant - Addition Elle | L&L Suede Fringe Vest - Addition Elle | Expression Dangle Leaf Collar Necklace - Hudson's Bay | Statement Rings - CoutuKitsch | Fedora Hat - Similar Here
"Pattern mixing? In my sleep! Fringe play? Any day! Mixing the two? Unchartered territory. I must admit, I had my doubts when it came to putting this look together. I considered wearing a pair of bell bottom jeans or leaving the fringe vest out of the equation; however, I feel that the look that came together is perfect for the festival setting. It brings together pattern mixing and the old festival cliche of fringed everything. I drew my inspiration from the era of peace, love and music, fitting for festival style. Plus, showing a little shoulder cleavage is never a bad idea!" @inemesitetokudo
I hope you enjoyed or plus size festival style look book! It shows that festival fashion can come in different shapes and forms and be as neutral or as outside of the box as you want. These three looks are perfect for skipping through the fields of Coachella or raving at Chasing Summer. Let me know what you think!