Casual Weekend Look with a Valentines Touch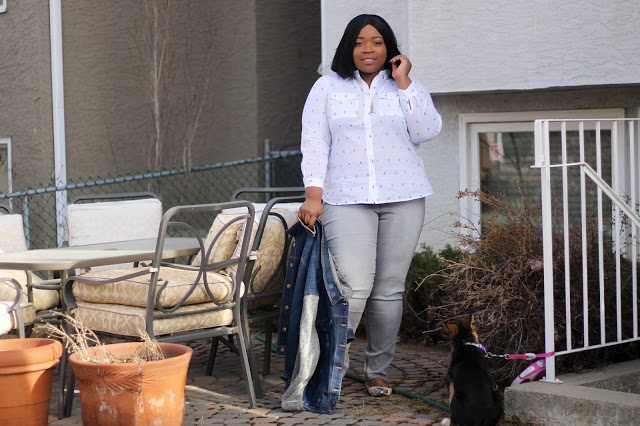 Long Sleeve Printed Button Up Blouse - Penningtons | Superstretch Colour Legging Jean - Penningtons | Hooded Mix Media Denim Jacket - Penningtons | Leather Tassel Necklace - Coutukitsch
Happy Valentine's Day! Aside from showing my girls some love, today has been packed with nothing but puppy love. Zen, our newly adopted German Shepherd/Siberian Husky puppy, is a bundle of pure energy and a source of constant love. She is extremely inquisitive and is always finding new ways to be a little trouble maker. As you can see by her numerous appearances in these outfit pictures, she is not at all shy to share in the spotlight!
In order to keep up with the newest lady in my life, I had to dress with comfort at the forefront of my mind. Luckily, Penningtons had the solution. I have been eyeing this long sleeve printed button up blouse for a while now, and once I tried it on, I fell in love with the cut and style. The blouse is cut to perfection, and hugs every curve. The material is comfortable and breathable, allowing it to keep up with me while I scurried around after Zen. Paired with d/c Jeans superstretch grey jeggings and a hooded mix media denim jacket straight from my dreams, this outfit is the perfect weekend look.
I wanted to add a Valentine's Day detail to bring some festive flair. I remembered that I had a pair of heart tip flats from Asos. Unfortunately, these are long sold out as I bought them a while back, but I was able to find something similar here!
Adopting Zen has been the best experience so far. I couldn't imagine our family being complete without her. If you are thinking of getting a pet, I would highly recommend you #adoptnotshop! We got Zen from AARCS, but there are other avenues to adopt such as The Humane Society. Help give an animal a forever home and they will love you forever!