Moving out on your own for the first time is seriously not as glamorous as you'd think. I'm sorry to break some serious bubbles but images of shopping for wall art and hosting wine parties is what happens after you stress for weeks on end to prep everything. It still to this day, a week or so after officially moving into my new place, baffles me how many of the little things I forgot to take into account when I made my rather abrupt decision to move out on my own. First of all, how did I think I was going to survive without no other furniture other than my bed? Cutlery and dishes? Who needs them! Setting up my wifi in a newly renovated building? Minor details. To make things even better, I took a lovely tumble (read: complete wipeout) in my new shower within a few days of chasing my solo habituation dreams. This not only made me remember to buy a shower mat (is that even a thing?) but a semi-torn rotator cuff and bruised hip bone really puts a damper on doing much.
But at the end of the day, when I painfully put my feet up (CC: shower wipeout) on my nonexistent coffee table, I can't help but smile. Because although I still don't have pots and pans, I have my own space where I can live free and happy by my own rules alone. Things are slowing down and I can finally find the time to enjoy living on my own, which has sparked a new level of creativity in me. I think it partially has to do with living in a trendy downtown neighbourhood busting at every seam with inspiration, but mostly to do with being alone with my own personal thoughts. It may have been very lonely and scary for the first few nights, but the freedom to chase my creativity to the fullest extent has really lit a flame in me!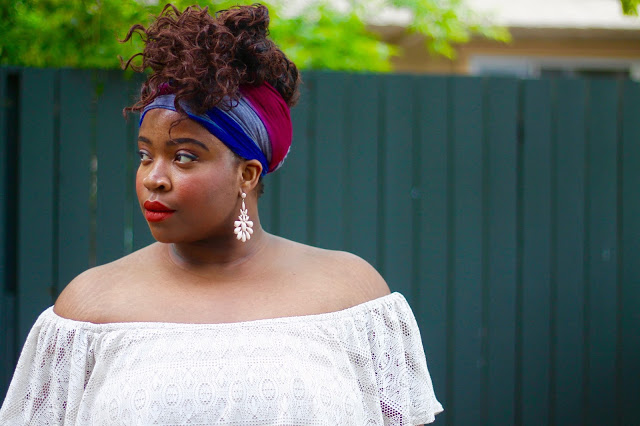 With creativity, however, comes the need for a lazy break once in a while, and that is where casual Fridays come into play. I straight up rocked this look all of last weekend between Ikea trips and birthday BBQs. Comfort is paramount when it coms to Fridays, especially when the weather reaches some record highs. Big curly hair doesn't quite flourish in 30 degree humidity, so having a scarf that can double as a head wrap is a must. Head wraps follow their own specific fashion rules, so there really is no need to coordinate them with anything you wear. I like to use head wraps as a fun way to add an unexpected pop of colour or patterned splash to any look. A crochet dress, especially one that gives me the opportunity to rock my stretch marked shoulders, makes the most sense in hot weather. Paired with a pair of out of this world comfortable wedges (they are like walking on a cloud) and a large tote to carry my life in, this look is perfect for treading the line between casual and chic.
Sidenote: this Addition Elle dress could be yours during this weekend's customer appreciation event. This is pretty much my fav time at Addition Elle (second only to those fashion dollar days because come on.. FASHION DOLLARS!) and has some serious sales that all plus size women need to take advantage of! Head on over to @additionelle to read more and keep your Sunday free!