A Thank You Letter to Rebdolls
"Caged In" Bodycon Midi Dress - Rebdolls | MBLM Sleeveless Vest with Chain - Penningtons | Cutout Strap Bootie Heels - Torrid
Rebdolls is a brand that I stand behind 100%. It is a brand that produces unapologetic fashion that is inclusive, with sizes that range from small to a 5X. Before being exposed to the brand, I would see young celeb fashion including body cons with cut outs and mesh detailing, and would search high and low for these looks in plus sizes. Rebdolls was the answer to my prayers, providing two piece sets and high slits, styles that plus size fashion designers seemed to shy away from. I saw that these sexy styles were offered and was comforted by the thought that there was a least one designer out there who was willing to push the line and provide styles that were inclusive, despite societal norms.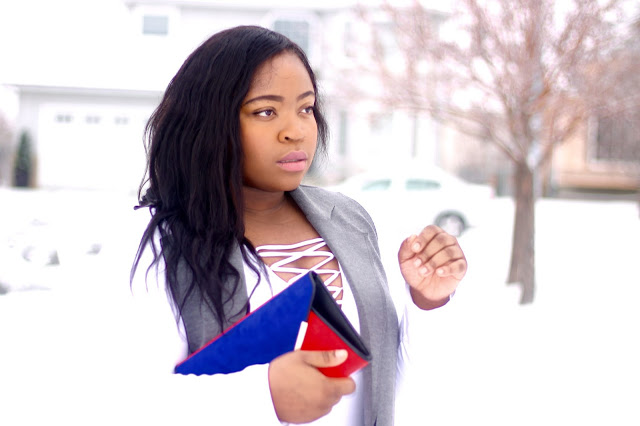 I've been eyeing this caged body con dress for a while and just had to get it. Being plus size is a struggle all on its own; heavier, being tall on top of it can cause some serious sizing mishaps. Knee length dresses tend to become mini dresses real quick and mini dresses tend to become some of my fav tops. But with Rebdolls, a midi stays a midi! I don't know how they do it, maybe through some magical fabric harvested by elves in the mountains of a far way island, or maybe through actually listening to the individuals who purchase their products, but the final product is perfect. I paired this caged dress with a simple vest from MBLM, that allowed me to show off the beauty of the dress while providing some wiggle room. With the addition of a pair of cutout booties, that mirrored the caged effect not he dress, and a stemming clutch, because colour is everything, this look came together magically!
So I guess this post is more of a thank you letter to Rebdolls for providing trendy fashion that works to not discriminate against any individual on the basis of their size. Thank you for helping a young woman find her voice in fashion by providing clothing that goes beyond size and makes everyone feel like a million dollars!