A Review of NadiaxAdditionElle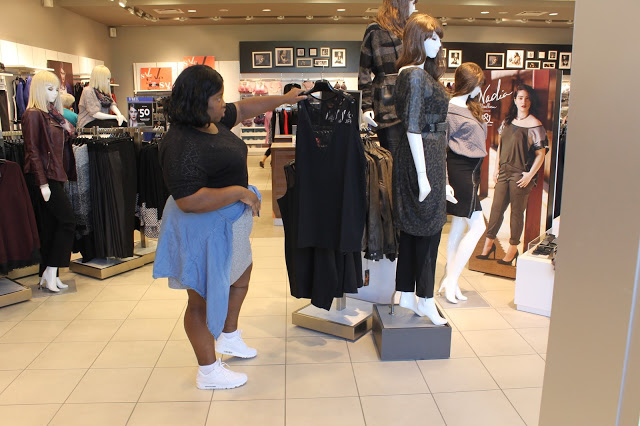 Plus size blogging trailblazer and overall mega babe Nadia Aboulhosn dropped her highly anticipated line with Addition Elle, NadiaxAdditionElle this past Friday. I obviously had no choice but to go check it out and fan girl hard at a line by one of my greatest inspirations. I unfortunately couldn't head over to Toronto to see her in person at the Addition Elle flagship store on Queen, so I decided to take seriously inappropriate pictures and creepy selfies with the posters in her display at my favourite Calgary Addition Elle in Beacon Hill Centre.
After having my moment with her life-sized poster, I was granted the awesome opportunity to try on pieces from her new line in order to complete a mini review of the line. I'd love to preface this piece with the fact that I am a far cry from a professional line reviewer (is that even a thing?) and all the opinions I have in here are mine. I simply took a look at the amazing array of pieces in the line and am conveying my take on it all!
I just want to start by saying that the entire line is pure fire (insert fire emoji here). It is the perfect combination of fall hues, such as olive greens and rich browns, and the perfect amount of sass that can only come from being designed by Nadia. The silhouettes where perfect for fall, comfort being at the forefront with a large choice of sweaters and knits In addition, there were some seriously flattering cuts in the form of mesh dresses and zip skirts that will help us all embrace our red hot side during the cooler months of the year. Finally, the cargo pants and textured leggings are cut to perfection, providing curve hugging goodness in hues that will stay current all season.
The part I love the most about this collection is the fact that Nadia's personality really comes out in it, in a highly inclusive size range made available by Addition Elle. Legitimately all the pieces are super flattering on every body type with a fall feel that I am super excited about being a part of. The touches of leopard print and bold stripes along side blacks and leather team up to make a collection that I highly recommend everyone go try on!
Below are three outfits that I put together using pieces from the collection to show you guys how some pieces look on. Everything fit like a dream and were so flattering that I had to buy pretty much everything. Thank goodness it was during the customer appreciation event in store so I cashed in on that 40% discount!
Outfit 1: Sweater Prep
Nadia Aboulhosn Printed Cami | Nadia Aboulhosn Moto Jacket
So here is my review of the NadiaxAdditionElle collection! I give it a solid 5 our of 5 stars for variety, wearability and over all fall wardrobe feel. I walked out with a solid bag of goodies that I can not wait to style and transition into my fall wardrobe. I would love to extend a huge thank you to the wonderful ladies at the Beacon Hill Centre Addition Elle for being so helpful and letting me skip around the store taking selfies and trying on pieces. I can't wait to show you all the outfits I incorporate these pieces into!