Las Vegas - the epitome of indulgence in a city that never sleeps. There is no better place on the planet to see the world in literally just one day, visiting the gondoliers at the Venetian before lunch and dining on French pastries in Paris for dessert. Las Vegas is iconic, the real life representation of our glamorous dreams and a city that boasts world renowned shows, lavish accommodations and Michelin-rated restaurants at your doorstep.
It is for these reasons, and many more, that I was more than excited to be able to plan out a day of outfits for my perfect day in Las Vegas. To find inspiration for these outfits, I chose a Las Vegas resort and let the glamorous restaurants, nightclubs and venues shape my outfit choices. Below, I've put together three looks that would take me from shopping at Via Bellagio to dinner at the chef's table of Jöel Robuchon. These looks seamlessly transition from night to day and would keep me looking chic and fab throughout every moment in between!
Look 1: An Afternoon Spent Shopping at Via Bellagio
Alice & You Maxi Dress with Lace Up Front Detail - Asos Curve | Satchel - Michael Kors Areladia Sunnies - Aldo Accessories | Wide Fit Strap Metal Block Heel - New Look
Clearly, the first thing I would get up to on my day in Vegas is hitting the Strip for some serious retail therapy. There is no better place, in my mind than the Via Bellagio. Shopping in the heart of luxury itself demands an outfit that can keep up with you as you buzz in and out of the brand name stores. This Alice & You maxi dress is the perfect shopping attire. The light weight material and loose cut allows for breathing space while I breeze through Armani's fall line. Paired with a nude, metal block heel and Michael Kors satchel, this outfit is relaxed while also adhering to my need to wear a pattern for at least a few hours each day!
Look 2: Dinner at Jöel Robuchon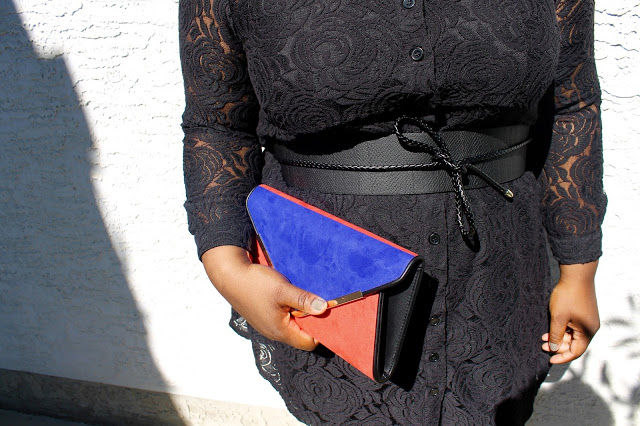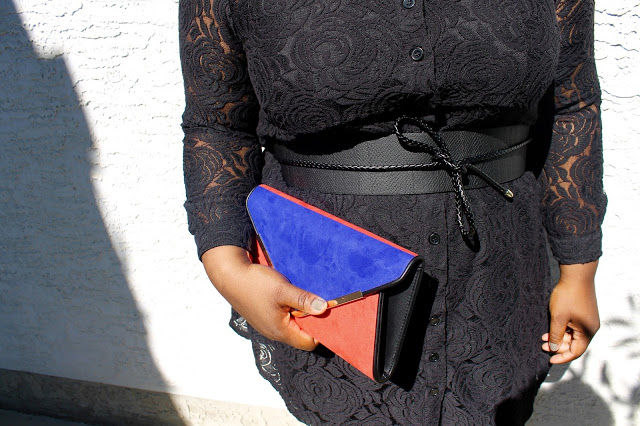 Love & Legend Lace Shirt Dress - Addition Elle | Love & Legend Faux Leather Multi Tie Belt - Addition Elle | Ganin Clutch - Aldo Accessories | Shoes (Shoedazzle) - Similar Here
After a hard day of shopping, a girl's has got to eat! Finding a good restaurant in Vegas is easy, with world renowned restaurants literally steps away from the strip. The restaurant I chose to inspire my second look is the Jöel Robuchon. This restaurant is the epitome of luxury, boasting an Art Deco inspired interior. The dress code at this three-Michelin star restaurant is formal, so I put together a more formal ensemble for this part of my day. The high neck and intricate lace detail of this Love & Legend shirt dress perfectly reflects the dark woods and black tile that is part of the restaurants decor. The creation of an empire waist with the faux leather multi tie belt adds the perfect drama to the dress while providing the perfect material contrast to the lace. I decided to add a pop of colour to the outfit, mimicking the reds of the lunge area and plush aubergine of the main dining room. This outfit brings the drama of Vegas evenings to life and I absolutely can not get enough of it!
Look 3: A Night in Bobby's Room
Michel Studio Long Sleeve Blazer with Faux Leather - Addition Elle | Ashley Graham Sultry Balconet Bra - Addition Elle | Mesh Detailed Skirt - Junarose | Beaded Clutch - H&M
Once the sun goes down, it's time for me to hit the tables and show everyone who the real boss is. This outfit was completely inspired by Cookie Lyon, the baddest boss lady in current existence. When I stroll into Bpbby's Room, Bellagio's exclusive poker room, I want to make sure to strike fear into the hearts of all those at the table, and this Michel Studio Marsala blazer is the perfect way to do so. Paired with this mesh detailed skirt from Junarose and beautiful balconet bra from the Ashley Graham collection, I feel like I can take on the world, and look bomb doing so. I'll strut through with the highest of heels and beaded clutch and snatch away all the coins in my path!
There it is - my #UltimateVegasOutfit post! Three looks that would comfortably transition me from an over the top shopping spree, to a decadent dinner and finally to the poker tables where I break hearts. Head on over to Vegas.com and take a look through the many Las Vegas resorts to find some inspiration for yourself! How would you dress for your day in Vegas?
This is a sponsored blog post; however, all thoughts and opinions are my own.